You've seen the signs and experienced the symptoms of hard water, and now you have a fabulous appliance that fixes that pesky issue in the home. All it takes is the addition of a little salt to a tank and, voilà, soft water! But have you ever wondered how it all works? Let's take a look at how your water becomes soft.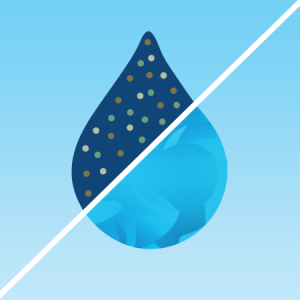 Hard Water 411
What is hard water? Scientifically speaking, it is water that contains substantial amounts of dissolved minerals, specifically calcium and magnesium. As water trickles through rocks, limestone deposits and soil, it picks up these minerals on its journey. Depending on how long the water travels through the ground before reaching your tap, it can pick up a lot of these minerals, making water harder in some regions than others. While the minerals won't harm your health, they can leave insoluble mineral deposits, making the water unsuitable—and quite a nuisance—for its many intended uses around your house.
The most effective way to address hard water is with a water softener. Water is softened when calcium and magnesium—the hardness ions—are collected by tiny resin beads through a process called ion exchange. The resin beads are charged with sodium or potassium ions. When hard water comes in contact with the resin beads, the calcium and magnesium are pulled out of the water and replaced with sodium or potassium, leaving your water soft.
Your Softener in All Its Briny Glory
To fully understand how your water is improved by a softener, it's important to correct a common misconception. Contrary to popular belief, it isn't the water softener salt you add to your softener that softens water—it's the resin beads. Even so, salt is key to the water softening process.
Water circulates in the tank where tiny resin beads swap the calcium and magnesium in the water for the sodium or potassium they're holding. The beads act as a sponge, adsorbing the hardness minerals from your water. This process is referred to as ion exchange, and soft water is the result. When the resin beads have maxed out their ability to hold calcium and magnesium, it's time for them to be recharged (a process called regeneration). During this process, the resin beads are washed with the highly concentrated saltwater solution (brine) from the tank (made from the salt you added to the tank). The brine forces the calcium and magnesium ions to be released from the beads and replaced with sodium or potassium ions.
Once the resin beads have been properly cleansed, the brine solution is flushed from the softener with fresh water. This is when you'll notice water emptying into your stationary water tub or down a nearby drain. At this point, the beads are full of sodium ions and ready to soak up the calcium and magnesium once again.
But How Does It Know When to Soften?
So, how does a softener know when to get down to business? The timing of regeneration depends on the type of softener you have. Softeners with a timer flush and recharge on the basis of a predetermined schedule—say, 11 p.m. every three days, regardless of whether the water actually needs it. Newer units use computerized sensors that monitor bead depletion and other key metrics based on your water use and therefore only regenerate when needed. These newer systems, also referred to as demand-initiated regeneration softeners, are ideal because they save energy and money—using less water and salt for regeneration.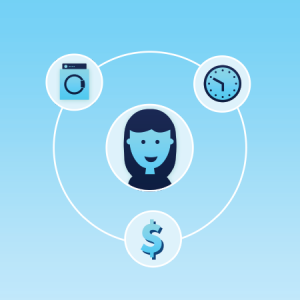 Moving from "How" to "Why"
At this point, you've probably got the "how" down pretty well, which brings us to the "why." Why should you care about soft water? The simple answer is that it provides a significant cost savings in several areas of the home. From extending the life of your water-using appliances and cutting cleaning time and effort in half to providing cleaner dishes and laundry and giving you softer skin and more manageable hair, water softeners benefit a household in many ways. For a more in-depth look at how a softener can help a home, take a look at this detailed breakdown.